To Facilitate Access
Some of the most important partners in any UOMA are the Collection Facilities.  And in the Maritimes, these include the Port Authorities that serve the commercial fisheries sector.
The designated products are collected in two different types of sites – large Generators (garages and industries) that deal directly with collectors and small Generators (farmers, small businesses, Do-it-Yourself mechanics) that need to bring their used oil products to Collection Facilities.  The overall volume of the products from small Generators is minor compared to the volume from large Generators.
But it is very important for SOGHU and SOGHUOMA (NB & PEI) to have each province covered so all small Generators have convenient access to a nearby, year-round Collection Facility.
The development of Collection Facilities for SOGHU and SOGHUOMA is a continuous challenge but a very important one.
In Quebec, at the end of 2015, SOGHU had as many as 1006 Collection facilities, 487 Commercials (garages) and 519 Municipalities.  At the end of June 2016, this total is now 1028 – 504 Commercials and 524 Municipalities.   
Furthermore following the success of our pilot project in Nunavik in 2015, where the KRG (Kativik Regional Government) and its citizens responded well, six Nunavik villages (Kuujjuaq, Salluit, Kuujjuaraapik/Whapmagoostsui, Kangirsuk, Kangiqsujuaq and Inukjuak) will become permanent Collection Facilities by the end of this year.
In New Brunswick, SOGHUOMA NB also continues to develop new Collection Facilities.  In 2015, there were 154 Collections Facilities in the province.  Since the beginning of 2016, 12 new Collection Facilities registered with SOGHUOMA NB. Out of the 12, eight are Port Authorities.   The commercial fisheries sector is a vital component of the social and economic fabric of the province, particularly in many rural coastal communities. This is why SOGHUOMA expends great effort in the developing Port Authorities as Collection Facilities.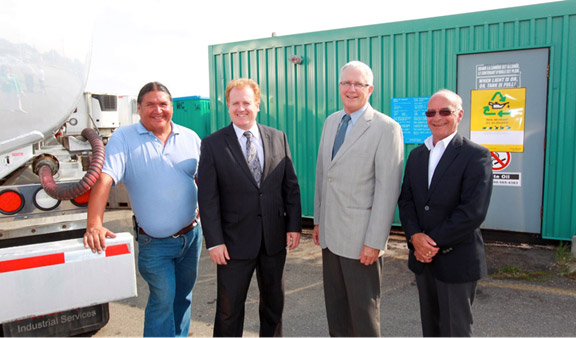 The Richibucto Port Authority is the first  in New Brunswick to register as a collection facility for used oil and glycol products.  On hand to mark the opening are (Left to Right):  Richibucto Port Authority Chair Cyril Polchies, Environment and Local Government Minister Brian Kenny, Recycle NB CEO Pat McCarthy, and David Bois, Chair of the Board of SOGHUOMA, which is the industry association that manages the New Brunswick Oil and Glycol Program.
In Prince Edward Island, the used oil and glycol stewardship program is just about one year old and performing very well. There are a total of 28 Collection facilities that cover the entire province. The quantity may seem low but Prince Edward Island has a population of only 146,000.
Out of the 28 Collection Facilities, six are  "The Island Waste Management Corporation" (IWMC),  a provincial Crown Corporation that administers and provides solid waste management services throughout Prince Edward Island. Their mandate is to deliver a cost effective and environmentally responsible provincial waste management system to both the residential and commercial sectors of PEI – a well-organized corporation SOGHUOMA is proud to have as Collection Facilities for citizens to bring back their used oil products.