Select all the provincial UOMA-operated programs that your company pays Environmental Handling Charges (EHC) to:
Sélectionnez tous les programmes provinciaux relatifs aux UOMA en vertu desquels votre entreprise verse des redevances environnementales :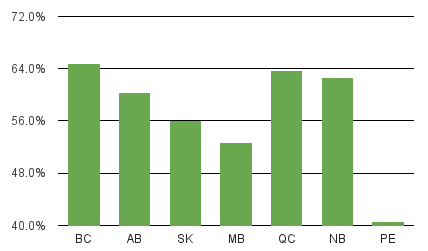 Are you a regulated steward of used oil filter, antifreeze, or oil or antifreeze containers in Ontario?
Êtes-vous un producteur réglementé de filtres à huile, d'antigel ou de contenants d'huile ou d'antigel usagés en Ontario?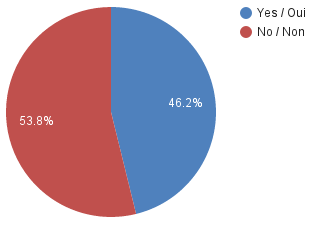 If answering Yes in the previous question, have you joined the recently developed AMS-led Industry Stewardship Plan (ISP) or are you still considering your options, including remaining with Stewardship Ontario -the designated Industry Funding Organization (IFO)?
Si vous avez répondu Oui à la question précédente, avez-vous joint le tout nouveau plan d'intendance de l'industrie (ISP) dirigé par l'AMS ou êtes-vous toujours en réflexion quant à vos options, incluant de demeurer avec Stewardship Ontario – l'organisation désignée et financée par l'industrie (IFO)?

New legislation called The Waste-Free Ontario Act, 2016 has been or will soon be proclaimed in Ontario. Once fully implemented, this new Act will enable Ontario stewards to choose how they meet their recycling obligations, including whether they would like an UOMA to operate a program in Ontario. Would you be interested in an Ontario UOMA operating a program on your behalf?
Une nouvelle loi, intitulée Loi de 2016 favorisant un Ontario sans déchets, a été ou sera prochainement proclamée en Ontario. Lorsqu'elle aura pleine force exécutoire, cette nouvelle loi permettra aux producteurs en Ontario de choisir comment ils respecteront leurs obligations en matière de recyclage, y compris s'ils souhaitent qu'une UOMA gère un programme en Ontario. Seriez-vous intéressé à ce qu'une UOMA en Ontario gère un programme en votre nom?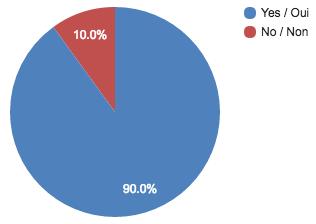 One of the UOMA's tasks is to collect EHCs from stewards, and ensure the amount collected is accurate. How satisfied are you with your experiences reporting to and interacting with the seven current provincial UOMAs?
Une des tâches de l'UOMA est de percevoir les redevances environnementales des producteurs et de s'assurer que les montants recueillis sont exacts. Dans quelle mesure êtes-vous satisfait de vos expériences de déclaration et d'interaction avec les sept UOMA provinciales actuelles?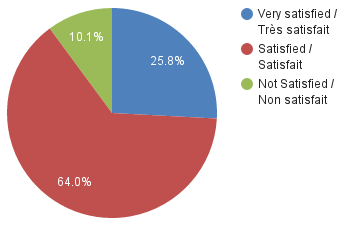 The UOMAs aim to cooperate and harmonize each provincial operation as much as possible to maximize efficiency -e.g., harmonized product lists and definitions, EHCs, and EHC compliance auditing. How satisfied are you with the amount of harmonization achieved so far among the current seven provincial UOMAs?
Les UOMA cherchent autant que possible la collaboration et l'harmonisation avec chaque association provinciale pour optimiser l'efficacité, par exemple par des listes et des définitions harmonisées des produits, des redevances environnementales et la vérification de la conformité des redevances environnementales chez nos membres communs. Dans quelle mesure êtes-vous satisfait du degré d'harmonisation atteint jusqu'à maintenant avec les sept UOMA provinciales actuelles?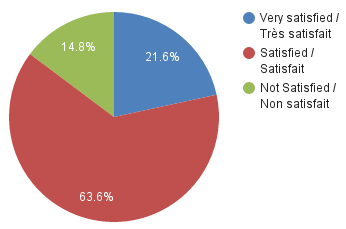 One potential area of future harmonization that could be considered is the creation of "one national website window" for stewards to file EHCs. Would you recommend this initiative to the UOMA's?
Un aspect potentiel d'harmonisation future qui pourrait être envisagé est la création d'une « fenêtre unique du site Web national » où les producteurs pourraient déclarer les redevances environnementales. Recommanderiez-vous cette initiative aux UOMA?