Members of Canada's seven successful Used Oil Management Association (UOMA) recycling programs have spoken.
In the fall of 2016, over a two-week period, the National Used Oil Material and Antifreeze Advisory Council (NUOMAAC), the program's national body, conducted a member survey. The survey tested and assessed member satisfaction with the UOMAs as service providers (click here for survey results).
Eighteen percent, or 91 of the 504 UOMA members surveyed responded – a very good response rate. Most industry survey response rates range between 10 and 15 percent. Forty-six percent of UOMA members that responded are also Ontario stewards, with 90 percent of those respondents interested in having an Ontario UOMA operate a program on their behalf.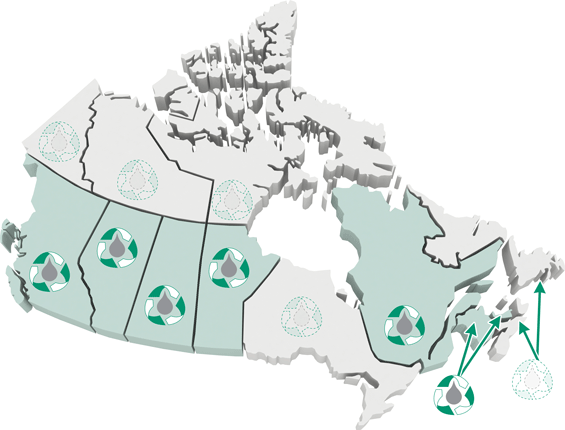 Most stewards are satisfied (or very satisfied) with their experiences with the UOMA program. Members' comments also strongly encouraged improved national planning and cooperation amongst the UOMAs, including:
a one-window approach to EHC remittance;
further harmonization on communications; and
as much further national harmonization as possible for programs, product lists and definitions, EHCs and EHC compliance auditing.
In response, NUOMAAC is:
beginning work immediately to develop a one-window approach for EHC remittance. Any members that wish to provide input are encouraged to contact David Lawes at DLawes@usedoilrecycling.ca for English inquiries and Jean Duchesneau at jean.duchesneau@soghu.ca for French inquiries.
introducing a national Communications Director to improve our national communications approach, including:

the national website, www.usedoilrecycling.com;
national branding; and
national messaging on the importance of recycling used oil and antifreeze materials.

considering hosting an annual webinar to seek member input in identifying further opportunities to maximize cost-efficiency and minimize administrative burden; and
creating an annual national member report on national accomplishments and opportunities.
Thank you for your input. From the action items listed above, we have heard your recommendations and are acting on them. The UOMAs have renewed our commitment to improve our member interface and services to make it as easy as possible for you to meet your regulated obligations.
We have also renewed our commitment to working towards harmonizing our provincial programs as much as possible within the regulated frameworks that exist in each province. Please stay tuned for further initiatives to meet the operational needs of you, our member companies.
Rod Rosenfelt
Chair
NUOMAAC
UOMA Initial Fill (OEM) Category Summary Update – First Notice
In 2013, the Used Oil Management Associations (UOMAs) began collecting Environmental Handling Charges (EHCs) on oil, antifreeze and filters contained in original equipment (OEM).
As part of our efforts to continually improve administrative efficiency, fairness, and EHC compliance, the Associations are undertaking a review of the Initial Fill (OEM) Category Summary. The main goal is to clarify category classifications for some of the more difficult to classify on- and off-road vehicles and equipment. Click here for the current list outlining the UOMAs' obligated OEM categories and the oil, antifreeze and filter volumes and counts associated with each category.
A consultation document inviting stakeholder participation will be emailed to OEM-remitting UOMA members and also posted on the UOMAs' national website www.usedoilrecycling.com by March 1, 2017.  Following receipt of the consultation document, stakeholders are invited to respond on or before April 30, 2017.
OEM-remitting UOMA members will receive the updated 2018 Initial Fill (OEM) Category Summary in September 2017 for implementation on January 1, 2018.
Rod Rosenfelt
Chair
NUOMAAC