Awareness
In the most recent Consumer Awareness Benchmark Study for all British Columbia Stewardship Programs (2018), 71% of respondents indicated awareness of the used oil and antifreeze materials recycling program managed by the British Columbia Used Oil Management  Association (BCUOMA). And 84% believed the products collected in the BCUOMA program are properly managed.
The awareness numbers are positive. But BCUOMA continues to build on increasing awareness with communications targeting both the general public and its Return Collection Facilities (RCF) partnerships.
Outreach
BCUOMA uses traditional and digital media campaigns as well as social media and its website (www.bcusedoil.com) to deliver timely communications to target audiences. 
More direct outreach is accomplished by supporting and participating in events relevant to recycling. BCUOMA supports Community Round-Ups where residents bring their recyclables to the same location ensuring used oil, antifreeze and related products were safely collected and recycled.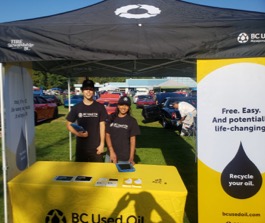 BOOTH AT SUN FESTIVAL
Community events give BCUOMA the opportunity to interact directly with the general public. This summer, the Association sent street teams to a number of large-scale events like the Celebration of Light Fireworks, Caribbean Days, Vancouver Pride, Kits Fest and the Sea Wheeze Half Marathon & Sun Festival. BCUOMA also had a consumer information booth at the Tsawwassen Sun Festival Car Show 'N Shine.
Industry events too are important. BCUOMA was a sponsor at the Union of BC Municipalities Conference. Here the Association set up a modified 10 foot sea container designed as a completely self-contained recycling unit. This kind of unit interests municipalities that want to provide residents access to safe and secure recycling.
Collaboration
Collaboration comes in many forms such as sponsorships and infrastructure grants. BCUOMA's infrastructure grants are available to registered RCFs, municipalities, private businesses, non-profit organizations and other sectors requiring additional infrastructure for their facility. 
The most significant infrastructure upgrade BCUOMA provides is its modified sea containers. Available in 6, 10 and 20 foot options, each container is a self-contained recycling unit. Each seacan includes a used oil storage tank, drums for antifreeze and filters, bags for used plastic containers and a spill-proof floor.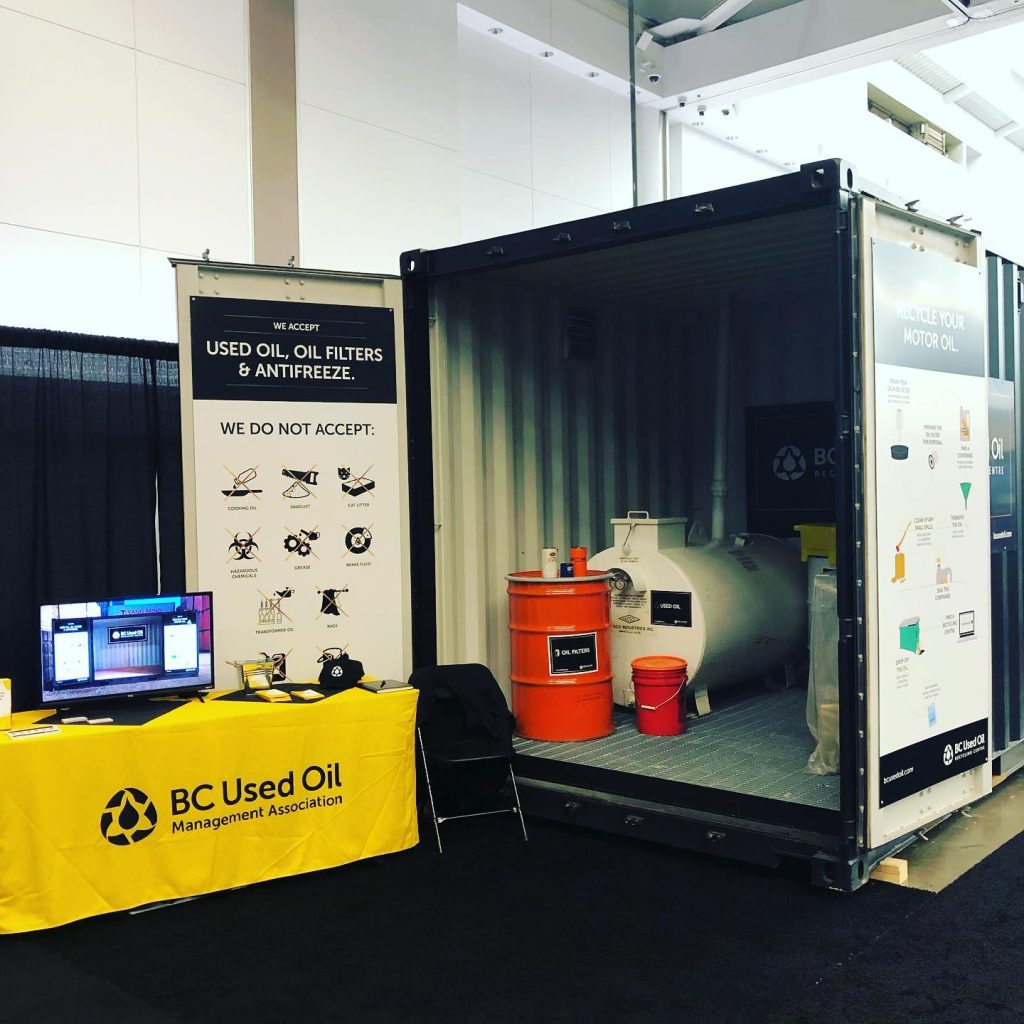 SEA CONTAINER
Results
In outreach and support, the 2019 results for BCUOMA are significant. The Association approved funding for 10 community Round-Up events; approved 24 Infrastructure Grants; attended 9 high-traffic community outreach activities; and participated in four industry-related events.