Awareness
Steinbach is Manitoba's third largest city and the regional economic hub of the south-eastern part of the province. The city and the surrounding farming communities reflect a strong Mennonite influence with orderliness and a commitment to a clean environment.
On Saturday, June 8th, to raise awareness of the importance of used oil and antifreeze materials recycling, the City of Steinbach, with the support of the Manitoba Association for Resource Recovery Corp. (MARRC) hosted Oil Recycling Day at the landfill.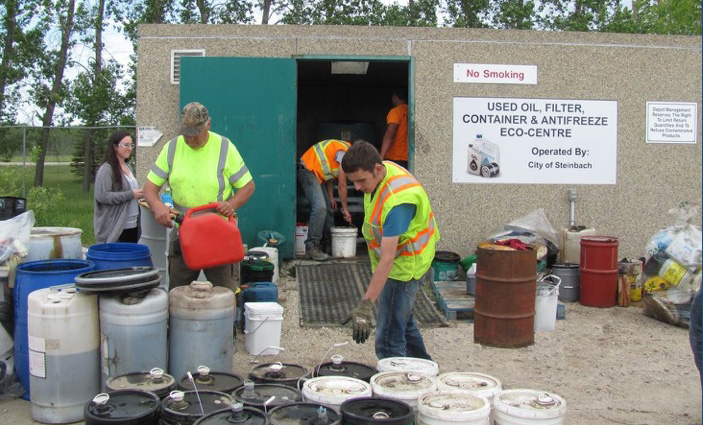 STEINBACH ECOCENTRE WITH RECYCLERS & PRODUCT
For every 5 litres of used oil dropped off, the recycler received a coupon to be redeemed for free oil. And, over the lunch hour, recyclers could buy a hot dog with a drink for a toonie! 
The results from this one community's awareness-building activity were 119  customers dropping off 4,450 litres of used oil.
Outreach
Outreach for the Association is province-wide through communities like Steinbach in the south-east corner; to northern remote communities such as St. Theresa Point and Churchill; through the program's 94 licensed collection points across the province and 18 collection points in Winnipeg including the One-Stop-Shops at the Brady Landfill, Pacific Ave. & Panet Road locations.
MARRC's recycling message is delivered in person through its active Ambassadors program accompanied by mascots Mr. & Mrs. Oil Drop; over the air on local radio and through print advertising and imaginative promotions.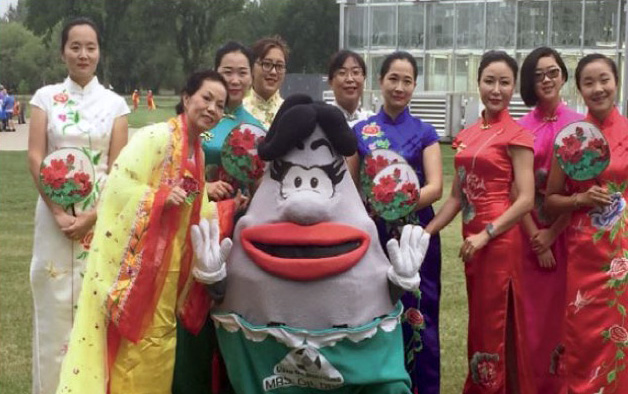 MRS. OIL DROP & CHINESE CULTURAL EVENT
Mr. Oil Drop visited the Town of Pilot Mound's elementary school on Earth Day, Monday, April 22nd. Mrs. Oil Drop travelled to Dauphin for EcoDay during national Environment Week this past June. Whether it's in a parade like Gimli's Icelandic Festival or Winnipeg's Chinese Cultural Festival, the mascots are there highlighting the importance of recycling.
Collaboration
Since its inception in 1997, MARRC's success has been built through meaningful collaboration. 
MARRC's Ambassador program contracts employees throughout the summer months needed to tour the province promoting recycling. The Association does this in collaboration with the Health Product Stewardship Association (HPSA) (recovering out-dated medication) and Call2Recycle (old batteries and cell phones).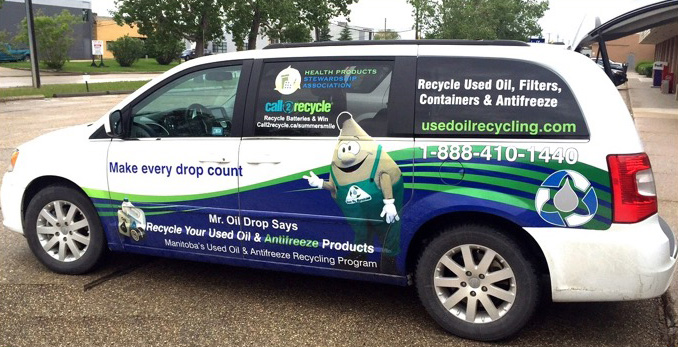 Throughout the province, MARRC connects with communities and organizations to promote used oil and antifreeze materials recycling.
Results
The results of MARRC's local initiatives in 2019 are positive. The Ambassadors attended 44 separate events, totaling over 110 days, from mid-April to early September. Some events were just one day; others were longer, like the annual Red River Exhibition which ran 10 days.
During these events, the Ambassadors conducted a brief survey with visitors to determine their knowledge of recycling used oil and antifreeze materials, and advised them of where the products can be recycled. This year, they conducted 10,004 surveys collecting valuable information for MARRC on awareness of the program.
This provides a snap-shot of MARRC's local initiatives.